BMBs
Bone Marrow Biopsies
People always have questions about bone marrow biopsies and aspirations. Children may have questions about what they are going through. I have written a book for children to help them cope with having a bone marrow biopsy. Bone Marrow Biopsy Day is available through Lu Lu publishing at a reasonable price. I also wrote an Article that may be helpful for families Bone Marrow Biopsy Day: What to Expect. How to Survive. The video link at the bottom of the page shows bone marrow biopsy pictures in detail.
Joseph
Joseph asleep. He wanted to see what he looked like when he fell asleep, too. The mask is an oxygen mask. The "sleepy medicine" or "milk of amnesia" is injected into their IV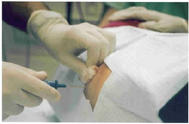 Sean
At the children's hospital here, they let the boys stay in their own clothes for the procedure. At other hospitals, they've had to get into gowns.
The bone marrow aspiration
Sean getting the aspiration portion done. The biopsy portion looks like a cork screw tool. It is used to get a "core biopsy"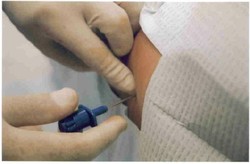 Close up view of the needle used for the bone marrow aspiration (I think this is Joseph's back!)

CCHMC: Sean and Joseph's adventure
Click on the link above to see a photo montage of the boys' recent BMB at CCHMC in March. WARNING: shows the bone marrow biopsies in detail.
For more information on bone marrow biopsies, you can go to the following links:
http://www.emedicine.com/med/topic2971.htm
http://www.merck.com/mmhe/sec14/ch170/ch170c.html
For a sample bone marrow biopsy report go to:
http://alternativehealing.org/bone_marrow_biopsy_report_sample.htm
Joseph always has to have his picture taken when he gets pokies. I've shared the story many times, but here it is again. When he was getting IVIG in the hospital, it would sometimes take up to eleven "pokies" to get a line in. Sometimes 8 or 9.... after a while, he became fearful of needles and would play all sorts of tricks to get out of getting poked. One time he escaped, ran through the door of the day hospital, past the nurses station, through a set of double doors and was almost at the elevator when I caught him. Another time he thought if he pretended to be a rock, he couldn't get poked. On one particular eleven pokie day, he was screaming bloody murder and in a complete state of panic. I took out my cell phone (which did NOT have a camera) and pretended it was a camera. I told him to say cheese. This distracted him. Ever since then, he wants a camera present at all pokie procedures. If he doesn;t see it he'll scream, "Camera! Camera!"
That's how we came to get these pictures of their bone marrow biopsies for our website and our book Bone Marrow Biopsy Day. The first year after his new camera fetish, he asked me to get pictures of his pokie in the back. He wanted to know what it looked like when they poked him and he'd be asleep, so he wanted a picture. I thought it was too weird. As soon as he woke up, he looked at me and asked, "Did you get a picture?" He was heartbroken when I told him no. I had discussed it with the doctors in the room and we joked around about it, I just felt it was weird.
The next year (2005), we went in for their BMBs and Joseph was sitting on the bed about to be put to sleep. He looked at me and said, "Get a picture this time. You told me last year you would get a picture and you didn't. I want to see what it looks like." Geesh. Talk about guilt. I took a few pictures. Remember we always have the camera at the hospital because it helps him with getting his IV started!