IVIG/SCIG
We switched to SCIG from IVIG in February 2006
Sean and Joseph received IVIG for 3 years before switching to SCIG. It has helped to keep them healthy. Here are a few pictures of SCIG "day." IVIG is usually given once every 3-4 weeks, but SCIG is given in weekly infusions that last about 2 hours. With SCIG, the boys have less of the bad side effects--headaches, vomiting and feeling awful. There are many benefits to using SCIG. With SCIG there is no need to access the veins, so this is a plus for children like Joseph who can take up to 11 sticks to get a line in. To see recent pictures of SCIG with their new pumps see: New SCIG pictures
Thank you for all the feedback! We appreciate it! We took these pictures several years ago, because when we first started SCIG, we were unable to find pictures of people doing SCIG. We thought it might be helpful for other children in the same situation. We have heard from families with children who receive SCIG and from adults-- we are glad that it has been helpful to so many!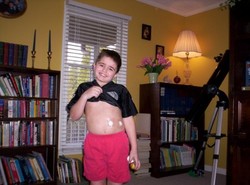 First we apply the EMLA cream on two sites.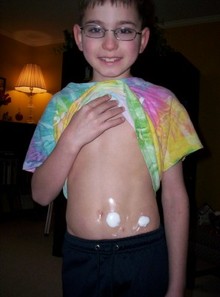 At first, Joseph wasn't too sure about switching from IVIG to SCIG because he thought that pokies only went into your hand or arm and NOT your stomach or legs!
Once the EMLA sits for 45 min, we are ready to go onto the next steps....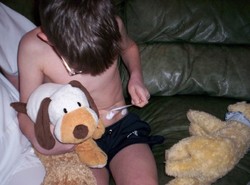 Joseph still has to have pictures taken when he gets pokies...this has graduated into them taking pictures of each other! Aye yi yi
Sean removing the Tegaderm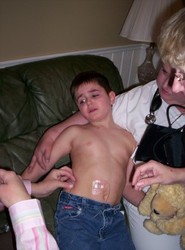 Joseph the first day of SCIG..... he gets better after he realizes it doesn't hurt as much as IVIG-- see pictures below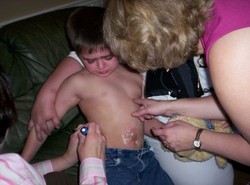 All done & Joseph is trying to smile. The pump is a small insulin pump....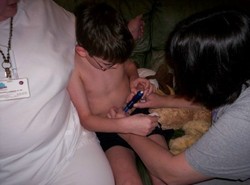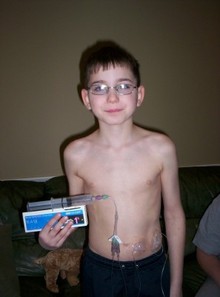 Sean with the pump after he is all "hooked up"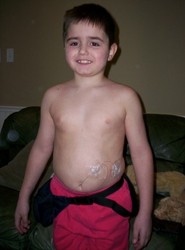 Joseph the second day-- see he is much better now!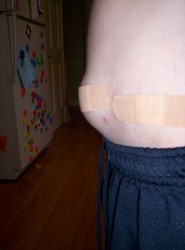 Sean did not want to walk around the first day...... he laid down to one side and the IG went into one site.... here's a picture of the goose egg. He was down by that afternoon. Amazing.
Joseph had to take my picture while I was trying to start Sean's SCIG---